Nick White is the Owner and Founder of Off Leash K9 Training.  Nick is a former US Marine and former US Secret Service. He currently has over 130+ dog training locations throughout the United States.
Nick is globally recognized as being one of the top dog trainers in the world.  Nick is the co-host of A&E's hit show, "America's Top Dog."
He has 2 official world records in off leash obedience, named on Wikipedia as one of the top 20 dog trainers in the world, recently named top 10 trainer in the world by bestdogtrainers.org, has been featured in many magazines and shows, and he is regularly requested by the top celebrities and athletes! He has been called upon by people such as actor Ryan Reynolds, WWE's John Cena, MLB All Star Max Scherzer, UFC World Champion Jon "Bones" Jones, and many more!
You can visit our YouTube Channel and watch over 3000+ before/after videos of Nick and his team's work!  Off Leash K9 Training has more documented videos than any dog training business in the entire world!
Morgan Lampe is a dog lover first, and a dog trainer second. Morgan knows from first-hand experience the difference dog training makes in the relationship between dog and owner. Without professional training it can sometimes be a frustrating relationship, but with an investment in good training a wonderful transformation will occur.
Morgan has been working with dogs and their owners for many years as part of the Off Leash K9 Training team and she says there is nothing which satisfies her more than to see a happy dog and a happy owner!
Morgan says her mission is to help you and your dog enjoy many happy years together.
Morgan's favorite before and after videos:
Tank Mosley is a Marine Corps veteran and has been around dogs his entire life. Tanks parents raised Pitbull's and Catahoula leopard dogs back in Louisiana.
Tank has been training professionally for six years for Off Leash K9 Training and when Tank is not working obedience dogs you can find him decoying for the Virginia State police and other local agencies. He is always continuing his education by attending seminars and workshops around the country.
Tank can teach diabetic alert dog, CGC, any obedience, tracking and trailing, detection and protection.
Some of Tank's favorite before and after videos:
Carrie Windmiller - Trainer
Carrie Windmille grew up on the eastern shore of Maryland and now resides in Fredericksburg, Va. She has an Early Childhood Education degree and has taught in the preschool sector for over 15 years.
In 2015 she decided to take a turn in career paths. Her passion for teaching immediately transferred to the dogs and helping others.
In 2015 Carrie was officially certified through Off Leash as a trainer. She became certified to be an Evaluator for American Kennel Club in 2016. She then became certified with Federation for Service Dog Support as an Evaluator in 2016. She is trained to teach basic and advanced obedience as well as dog aggression, human reactivity, high anxiety/fear, therapy program, and service task training. She is certified to teach facility lessons, InHome lessons, puppy consults, and board and trains.
Carrie has taken the time to mentor young adults in the Prince William County area; introducing them to how to be around dogs safely and also encouraging social skills with new adults. She often attends local expos and visits neighborhood shelters in order to spread the word about the company and what we can do to help.
Carrie has worked in the Woodbridge, Va location for the last 5 years. She has trained around 800 dogs and put in over 10,000 hours of training with every breed and ages ranging from 8 weeks to 12 years old.
Some of Carrie's favorite board and train videos:
Danny Walker has been working with dogs most of his life . From a young age, Danny always spent most of his free time working with family/friends' dogs on teaching them basic obedience. His passion led him to attend countless dog training seminars and certification courses across the United States and Canada. Danny's philosophy has always been to learn as much as possible so that he could be the best trainer possible!
Danny has worked with some of the best in the business; Michael Ellis, Martin Deeley, Heather Back, Von Liche Kennels, Logan Haus Kennels, and countless others. Danny loves bringing out the best in dogs and teaching their owners how to communicate clearly with their pet. As a long time IACP (International Association of Canine Professionals) member, he is committed to continuing his education so that he can add even more value of knowledge for his clients.
Danny's specialties in training include, marker training, diabetic alert training, detection, tracking, protection, and behavioral modification. He has been an OLK9 trainer for the Northern Virginia location for over 7 years and has helped thousands of local families!
Some of Danny's favorite board and train videos
Michelle Guarino - Trainer
Michelle Guarino originally from Vienna, Virginia and received her BS in Economics from Virginia Tech in 2006. From cats and dogs to ferrets and chinchillas, Michelle has kept various pets in her household since she was a young child. She had hoped animal care and training would be a path she could pursue as a career one day.
Michelle began formally working with animals 19 years ago, starting out as a veterinary technician in 2000. She has honed her skills in various sectors of animal care; from emergency response at a veterinary clinic to oncology at a specialty practice in Vienna, Virginia. In 2015 Michelle transitioned into the training sector and began working at the headquarters of Off Leash K9 Training. Since joining the OLK9 team, Michelle continues to receive positive feedback from her many satisfied clients and prides herself in her amazing videos!
Erin Sinski is a native of Northern Virginia and has been a life long dog owner and lover. She also grew up riding horses and actively competed in the hunters growing up and throughout college. She currently owns two dogs, a black lab mix and an Aussie mix.
Erin got into dog training with her most recent dog when she sought help for his behavioral issues. After seeing the difference a good training program and proper tools could make, she become interested in all things dog related. She knew what it felt like to feel helpless or out of control with your dog and wanted to help others find that same balance in their relationship with their dog. Erin was lucky enough to come on to the Off Leash Northern Virginia team where she has been privileged to learn from some of the best trainers around. Erin has since been able to apply her experience to help other dog owners and continues to expand her training knowledge. Erin loves working with all breeds and sizes of dogs. She especially loves being apart of the lesson program and getting to see the growth of the owner and dog week after week as they master each new command. Erin believes that every new dog that walks in the door is a new challenge and teaches her something new. Dog training sure is not dull, but she loves every second of it!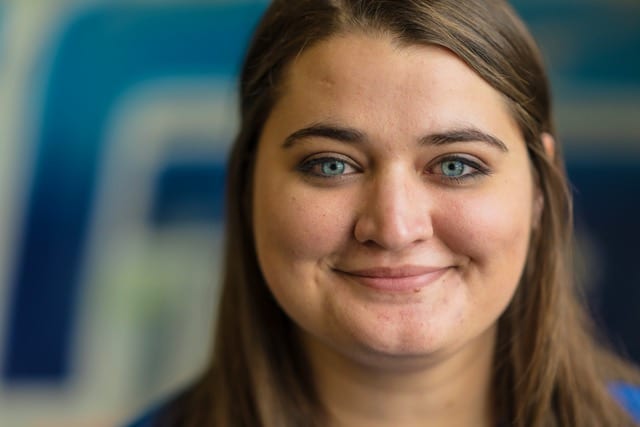 Elise Kent is originally from San Diego, CA, but moved to the east coast when she was stationed in Maryland with the U.S. Army at 19 years old back in 2002, and she has been living in Northern Virginia since 2007. 
Elise found Off Leash K9 Training as a client almost six years ago when she was struggling with training her personal dog. After her first lesson, she knew immediately that she wanted to do this full time. She continued to train as a client and educate herself on dog behavior and different training methods, until OLK9 finally took a chance on her and hired her. Elise is going on her 5th year as a full time trainer and couldn't imagine a more enjoyable and fulfilling job. Her favorite part is watching the shift in a pet/owner relationship from frustration to a true bond and partnership. 
Elise has 3 dogs and 1 cat and every single one of them help out in training dogs. She says they are living the dream!
Some of Elise's favorite before/after videos!
Ian Galliano is a Marine Corps veteran and has been around dogs his entire life, He got into training dogs for many reason but his biggest is to give the dogs and owners a better life together as a family.
Ian is certified in explosive and narcotic detection work as well as an instructor in it, when he's not training family dogs he's running Odor Scenarios with his working dog, K9 Axel.
Jake Stanford is a prior client that loved the Off Leash K9 training experience so much he decided to pursue a career in it. Three years ago, Jake came to the Off Leash K9 Northern VA facility to have his lab mix, Rose , go through the advance training program.
Jake recently began teaching Basic and Advanced obedience lessons July 2020. Jake enjoys seeing each dog's transformation come full circle with both board and train and private lessons clients. Jake Stanford is a Virginia native and USMC veteran.
do you have questions for us?
Or Call us for a free consultation today!