Pit Bull Rescues in Northern Virginia – The Top 9 List
When picking out a new pup for adoption, many owners find that their options are filled with pit bull breeds. Ideally, pit bulls aren't an actual breed but a mixed dog breed of five or six different types that generally look the same. Most rescue shelters list them as "terrier mix," but they generally have a square head and a sturdy frame. Pit bulls tend to stay longer in shelter homes since most apartment complexes don't allow the breed. This makes it harder for shelter homes to find pit bulls forever homes since there are very few potential adopters who are interested in adopting them. Part of the reason is that this particular dog breed has a stigma associated with them being bred for fighting or other aggressive reasons. As a result, they are usually over-bred to bring in money, and when that fails, many of them are dumped in shelters or abandoned. In reality, pit bulls are just like any other dog out there – they are just dogs who want to be loved. If you are in Northern Virginia and considering adopting a pit bull, volunteering, or donating to a shelter, here are some pit bull rescues in Northern Virginia.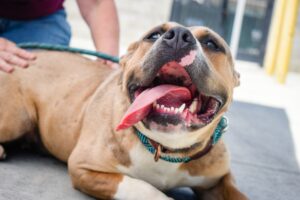 Vindicated Pitbull Rescue of Northern Virginia
The pit bull rescue was founded in 2014 by a group of volunteers with one goal: to restore the reputation of the misrepresented and misunderstood pit bull breed. The staff at Vindicated Pitbull Rescue works closely with shelters within the Northern Virginia area, fosters, and potential adopters to ensure the success of the entire rescuing and re-homing process. The rescue is located in Alexandria, VA, and serves the Metropolitan DC area.
Margaret's Saving Grace Bully Rescue in Northern Virginia
This non-profit, volunteer-led dog rescue organization serves the VA/WV area. Margaret's Saving Grace Bully Rescue is dedicated to rescuing homeless dogs, those in public shelters who are at risk of euthanasia due to pet overpopulation, dogs in danger of neglect, and the ones owners have given up. Through a comprehensive adoption process, the shelter helps find the dogs loving and committed permanent homes. All the dogs in their care are neutered and spayed, receive appropriate veterinary care, and are placed in nurturing foster homes as they await permanent re-homing. The rescue assists all "bully breeds" in distress regardless of their age or ease of placement.
Ambassador Pit Bull Rescue of Northern Virginia
The Ambassador Pit Bull Rescue is located in Bristow, VA. It is a local breed-specific organization responsible for rescuing and re-homing neglected, surrendered, and homeless pit bull type dogs in the DC Metropolitan area of Northern Virginia, Maryland, and the District of Columbia. Ambassador Pit Bull Rescue is an all-volunteer organization consisting of seasoned rescuers who've been rescuing and placing pit bull type-dogs for many decades.
Virginia Paws for Pits (VPFP)
This is a registered 501(c)3 non-profit organization based in the Shenandoah Valley. They specialize in pit bull-type dogs, working with local facilities and high-kill shelters in neighboring states to save pit bulls in need of care. Virginia Paws for Pits also strives to educate the public on misconceptions associated with pit bull breeds to promote adoption with an emphasis on responsible pet ownership especially spaying and neutering, to control pet overpopulation.
Ring Dog Rescue
The rescue is based in Henrico, VA, and is dedicated to "Pit Bull type dogs." Ring Dog Rescue is a non-profit organization dedicated to re-homing pit bulls from the Ring Dog Rescue and other rescue centers and those who have opened their doors to orphaned pit bulls in private rescue.
Mutt Love Rescue
The Mutt Love Rescue is a no-kill volunteer-run recure center in Fairfax, VA. The rescue was founded in 2010 with a mission of rescuing and re-homing abandoned mutts and other dog breeds. The dogs are first placed in temporary homes and given necessary medical attention before being placed in loving forever homes.
Bobbie's Pit Bull Rescue & Sanctuary
The organization was established in 2016 for charitable and educational purposes. Bobbie's Pit Bull Rescue & Sanctuary serves to rescue, rehabilitate and find permanent homes for "bully dogs," including the American pit bull, bull terriers, American bullies, American bulldogs, American Staffordshire terriers, and Staffordshire bull terriers. They also act as a facilitating adoption partner with local animal shelters and county animal control.
A Forever-Home Rescue Foundation
A Forever-Home Rescue Foundation is a non-profit rescue group operating in the Northern Virginia and Washington Metropolitan areas. The rescue strives to make quality dogs available for adoption, and the team does its best to match the potential adopters with the right dog.
Heritage Humane Society
The Heritage Humane Society is a maximum adoption animal shelter based in Williamsburg, VA. The rescue serves as a compassionate haven for unwanted and stray companion animals. It also educates the public on human care and treatment of animals, advocates for animal welfare, and helps promote adoption to reduce overpopulation and pet homelessness.
Adopting From Pit Bull Rescues and Training 
It is estimated that about 2,800 pit bulls are euthanized daily in rescue shelters. Pit bulls comprise 33% to 65% of the dog shelter population. Generally, only one out of every 600 pit bulls will find a forever home. Statistically, 93% of pit bulls in shelters are euthanized. The numbers are frightening, to say the least. If you've been lucky enough to own a pit bull, then you know they are a special breed. Recognized by their broad chests, square faces, and muscular build, pit bulls may look intimidating, but behind that façade are lovable, charming, playful pups and, honestly, some of the most affectionate and loyal dogs in the world.
However, as you are probably aware, dogs in this breed aren't always known for their family-friendly qualities. The misconception is that they are aggressive, vicious, and untrainable. While it's true that pit bulls have a somewhat violent past, as their ancestors were mainly bred for blood sports, that is not the case today. Any dog trainer will tell you that a dog's upbringing determines its temperament more than its breed. That's why many rescue centers have been established to protect these goofballs.
At Off Leash K9 Training, we know all too well how precious pit bulls are, and that's why we've helped train more than 250 pit bulls from ordinary folks and celebrities alike. Our training encompasses basic and obedience training and aggressive training for "bully breeds" like pit bulls. We also offer therapy dog preparation since pit bulls are just like other dogs and can make great therapy dogs. If you adopt a pit bull and prefer full onboard training, we offer a 1-Week "Freedom" Board & Training program, Community K9 2-Week Board & Training, and Urban 2-Week Board & Training.
For us at Off Leash K9 Training, there are no untrainable dogs, including rescue "bully breeds" like pit bulls. Our training guarantees a 100% obedient, 100% off-leash, and 100% distraction-proof pup at the end of every training program.