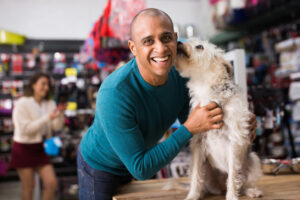 Dog Friendly Stores in Northern Virginia That Allow Dogs | The Best List
The holiday season is already here. For dog lovers, it's a welcome relief because it means spending as much time with your four-legged best friend as possible. Whether that means snuggling up with your pup around the fire, eating lots of pumpkin pie, spending time outdoors shopping, or going for walks, there is so much to do during the holiday season. Speaking of shopping, only one thing can make the experience wholesome; being able to take your dog with you to every store you visit. Luckily, more and more stores are adopting dog-friendly policies. You no longer have to leave your pup at home or in the car when you goshopping. We've compiled a list of stores in Northern Virginia that allow dogs. They include but aren't limited to the following:
The Wine Cabinet is a Store in Northern Virginia That Allows Dogs
Located in Reston, VA, The Wine Cabinet opened its doors in 2003 and has since been dedicated to serving Reston and the surrounding neighborhoods with knowledgeable and highly welcoming staff. The Wine Cabinet boasts more than 1,900 wines and craft beers, all hand selected to ensure that you only get quality wines and beers from family producers and boutiques. The store also carries specialty products, including meats, gourmet cheese, olive oils, jellies, spices, cocktail mixers, soups from the Eastern Shore, and locally made artisan chocolate. If you are into fine cigars, you can also get them at the Wine Cabinet. When it comes to shopping, the Wine Cabinet has an open-door policy for everyone, including pets. As long as your dog is leashed, there's no reason not to shop for fine wines, beers, culinary, and gift items.
Bring Your Dog in Northern Virginia: Marshalls & HomeGoods
Located in Woodbridge, VA, Marshalls & HomeGoods is a home décor chain store carrying a variety of furnishings, kitchenware, bedding, and holiday goods. The pet-friendly store welcomes leashed dogs inside. As long as your pup is well-behaved, you're welcome to shop at Marshalls & HomeGoods Monday through Saturday from 9:30 am to as late as 9:30 pm and Sundays from 10:00 am to 8:00 pm.
Dogs are allowed in Old Town Books
Old Town books is a general interest local bookshop located in the heart of historic Old Town Alexandria, VA. The store is built around a passion for creating a literary community. Leashed and well-behaved dogs are welcome to join you as you browse or join a book club or author event.
The Home Depot
If you are looking for stores that allow dogs in Virginia, you can't do better than Home Depot. With locations in areas like Alexandria, Falls Church, and Virginia Beach, the hardware store is one of the best places to be when you want to shop with your dog. The good thing about Home Depot is the large isles that ensure enough room for your dog to walk around as you pick out accessories, suppliers, and paint colors for your exterior and interior home makeover. However, ensure your dog is leashed, well-behaved, and close by your side; otherwise, you may never be allowed inside again.
Ann Taylor & LOFT
One of the best dog-friendly stores in Virginia is Ann Taylor and their casual offshoot, LOFT. The stores are favorites for dog owners since they allow pets and service animals into the stores as long as the animals are under the guardianship of the owner. Management uses their best judgment to determine which pets should be allowed in stores. This is to ensure that all clients feel safe. So, ensure your pup is well-behaved and on a leash. If your dog still needs obedience training, this isn't the place to be.
Bed Bath & Beyond
Bed Bath & Beyond has a dog-friendly policy in all locations in the US. The store even piloted a "canine cart" program to deliver an easy and comfortable shopping experience for dogs and their owners.
Gap
Gap has been a favorite for many dog owners due to its pet-friendly policy. Gap also offers seasonal pet sweaters, so your pup will join you in the family holiday photo sessions. The stores allow all kinds of dogs inside as long as they are on a leash.
Warby Parker
Are you considering getting yourself a new pair of prescription glasses this holiday season and taking your pup with you? Warby Parker is one of the stores in Northern Virginia that allow dogs. The store makes sure to clean its display glasses to make everyone, including those who don't own dogs, comfortable when they walk into the store.
Is Your Dog Well-Trained to Take to A Store?
Over the years, many stores have moved from the strict "No Dogs Allowed, Except Service Dogs" policies and have adopted dog-friendly policies that allow dog owners to spend more time with their pets. Every dog owner's dream is to take their dog to every store they visit. However, while many stores in Northern Virginia allow dogs, there's a catch. Your dog needs to be leashed and, most of all, well-behaved. No store wants to allow a dog that knocks over the shelves.
Ensuring that your dog is well-behaved is your job as a dog owner. That means teaching your dog basic manners, including how to behave in public. At Off Leash K9 Training, we take it upon ourselves to ensure that your dog goes through the best training, so they know not to nose merchandise, tug at the leash, or jump on strangers when at the store. You can choose from our many training packages, including a comprehensive, aggressive dog training program, basic obedience training, and advanced obedience training programs. The 4- and 8-week programs are meant to equip your dog with obedience skills that make it easier to handle strangers, other dogs, and new environments, skills vital whenever you go shopping with your pup. Get in touch with Off Leash K9 Training today to book a free consultation.